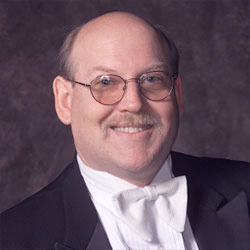 Michael W. Bull is currently Principal Percussion of Symphoria. Mr. Bull was formerly Principal Percussion of the Syracuse Symphony Orchestra where he had been a member since 1979. Although widely trained in all aspects of percussion, he has developed his reputation as the cymbal specialist in the orchestra. He was also a member of the Syracuse Symphony's popular Percussion Ensemble. Michael is an active soloist/clinician and is a freelance percussionist/timpanist for local and touring groups that perform in the Central New York Area. Michael graduated magna cum laude with degrees in Percussion Performance/Music Education and also holds a Masters degree in Percussion Performance from Syracuse University. He has been on the Syracuse University Setnor School of Music faculty since 1977 where he is currently the Head of Percussion, Director of the SU Percussion Ensemble and The Syracuse University Ancient Fife & Drum Corps. Michael is an Artist Representative for SABIAN Cymbals, Mike Balter Mallets and the Cooperman Fife & Drum Company, which markets his signature concert snare drum sticks.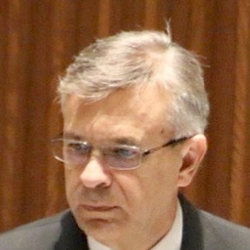 Ernest Múzquiz is a native of Moore, Texas and attended Texas A & I University (now Texas A & M – Kingsville) where he received his B.M. in 1970. He followed his dream to become a symphony orchestra musician by crossing the country to do graduate work at the Eastman School of Music, where he received his M.M. in 1971. His main percussion teachers were Dr. Joseph L. Bellamah (Texas A & I), John Beck (Eastman), James Dotson (San Antonio Symphony) and Leigh Howard Stevens (virtuoso marimba artist). In 1978 he turned down an invitation from the Baltimore Symphony Orchestra to become its principal percussionist in order to accept Maestro Christopher Keene's invitation to serve as the SSO's Assistant Conductor and director of the Syracuse Symphony Youth Orchestra (SSYO).
Múzquiz has also performed with the Pittsburgh Symphony, the Baltimore Symphony, and the Rochester Philharmonic. As timpanist, he performed with the Eastern Music Festival Orchestra in Greensboro, NC, and for a decade with the Skaneateles Festival. He served as percussion instructor at Syracuse University from 1974 to 1994 and also as conductor of the S.U. Summer Orchestra (1980-2000).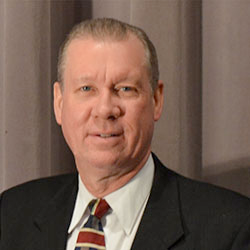 Larry Luttinger is currently a member of Symphoria, and was a member of the Syracuse Symphony Orchestra for over 20 years. He is also an arts administrator, music educator and musician. He is the founder and Executive Director of CNY Jazz Central.  He has taught at Hamilton College, Onondaga Community College, and Syracuse University, where he served as Chairman of the Music Industry Department and Director of Jazz Ensembles.  He chaired Music Departments for the Summerfame High School for the Performing Arts and the Metropolitan School for the Arts, and was Executive Treasurer of the International Association for Jazz Education the New York Chapter for 30 years.  As leader of CNY Jazz, he has led many planning and production efforts resulting in vibrant, community-wide visual and performing arts celebrations in all disciplines, including the CRAVE festival and conference, Syracuse Artsweek, Healthy Buildings '09 International Conference, Downtown Living Tours, Northeast Jazz & Wine Festival, Stage of Nations Blue Rain ECOfest, Jazz in the City, and others.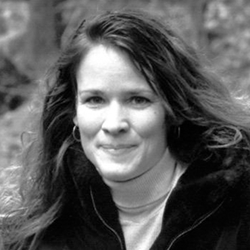 Jennifer Vacanti is a frequent performer with Symphoria and many other musical organizations throughout Central New York, including the Society for New Music.   She has taught Instrumental Music in the Baldwinsville School District for 16 years, and also serves on the music faculty at Onondaga Community College.
CARTOON MUSIC
Cartoon Music was written by Symphoria percussionist Ernest Muzquiz and gives the percussion section an opportunity to showcase their skills with mallet/keyboard percussion instruments.
AUBURN RUN-OUT
Auburn Run-Out was also composed by Ernest Muquiz, and focuses on percussion instruments known as membranophones.    Membranophones are
musical instrument which produces sound primarily by way of a vibrating stretched membrane.
LATIN CAPRICCIO
Calvin Custer's Latin Capriccio continues our focus on membranophones, but incorporates new instruments that invoke the sound of Latin America.   We also explore the world of sound with this work, and the ocean of vibration that surrounds us.
MITOS BRASILERIOS – MULA SEM CABECA
When Ney Rosauro wrote this work he was inspired by folklore from the Brazilian Rain Forest.  This work is inspired by a headless horse appears during a full moon.  It's gallop can be heard during the work.
MANZANILLA
With Manzanilla, our focus shifts to Idiophones, which are instruments whose bodies vibrate to produce sounds (as opposed to membranophones, aerophones (wind instruments) or chordophones (string instruments).
BALLAD
After exploring Idiophones in the previous works, we turn out attention to how we actually hear sounds (our ears, and how they work) with this Calvind Custer's jazz inspired Ballad.
MITOS BRASILERIOS – CURUPIRA
Returning to the music of Brazil, we explore how music can paint a picture in our mind just using sound.   This particular work depicts an elf with red hair and backwards feet.
SOUNDS OF AFRICA
Composer Michael Udow incorporates a wide variety of sounds from Africa in this final work, featuring a wide variety of percussive instruments.
Membranophones
Any of a class of musical instruments in which a stretched membrane vibrates to produce sound.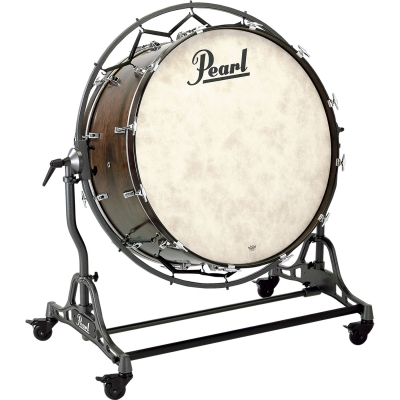 Bass Drum

The bass drum is a large drum that produces a note of low definite or indefinite pitch.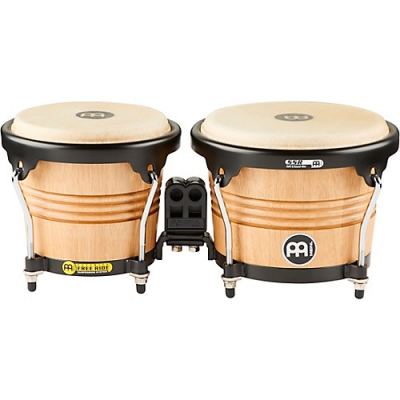 Bongo
Bongos are an Afro-Cuban percussion instrument consisting of a pair of small open bottomed drums of different sizes.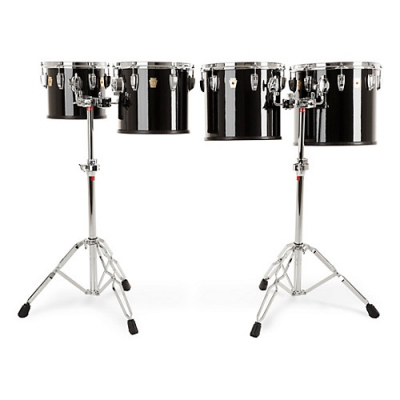 Tom Tom

A tom drum is a cylindrical drum with no snares, named from the Anglo-Indian and Sinhala language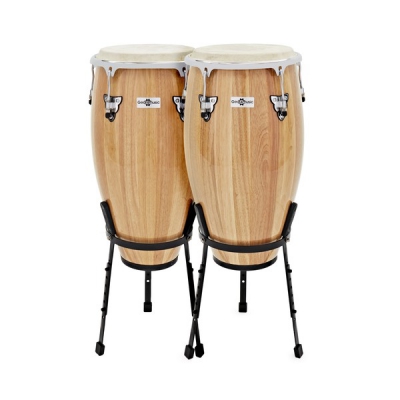 Conga
The conga, also known as tumbadora, is a tall, narrow, single-headed drum from Cuba.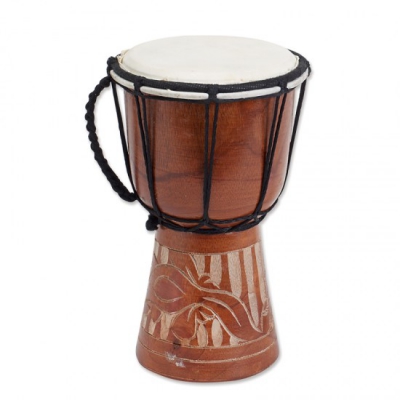 Djembe
A djembe or jembe is a rope-tuned skin-covered goblet drum played with bare hands, originally from West Africa.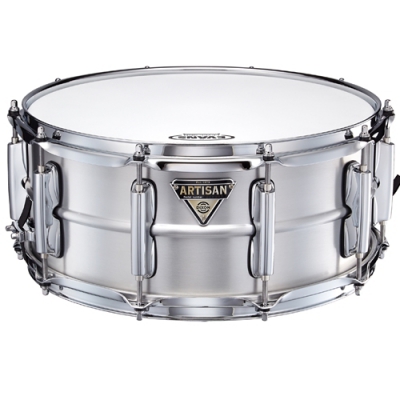 Snare Drum
The snare drum or side drum is a percussion instrument that produces a sharp staccato sound when the head is struck with a drum stick, due to the use of a series of stiff wires held under tension against the lower skin.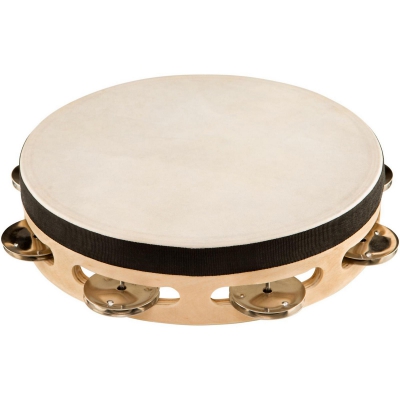 Tambourine
The tambourine is a musical instrument in the percussion family consisting of a frame, often of wood or plastic, with pairs of small metal jingles, called "zills".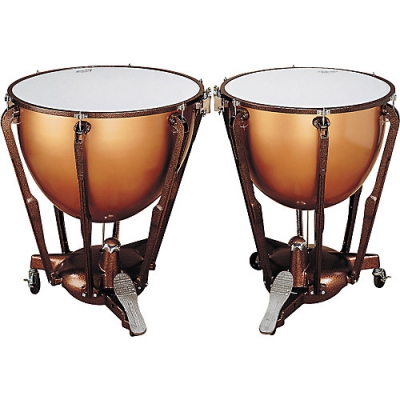 Timpani
A type of drum categorised as a hemispherical drum, they consist of a tunable membrane, called a head, stretched over a large bowl traditionally made of copper.
Idiophones
A class of musical instruments in which a resonant solid material—such as wood, metal, or stone—vibrates to produce the initial sound.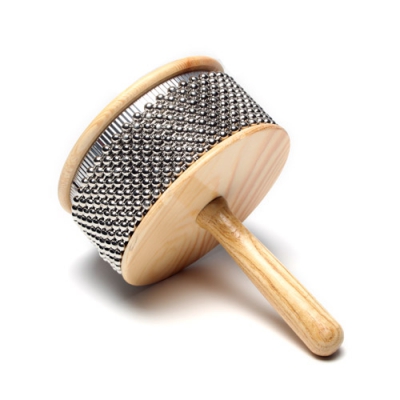 Cabasa
The cabasa, similar to the shekere, is a percussion instrument that is constructed with loops of steel ball chain wrapped around a wide cylinder.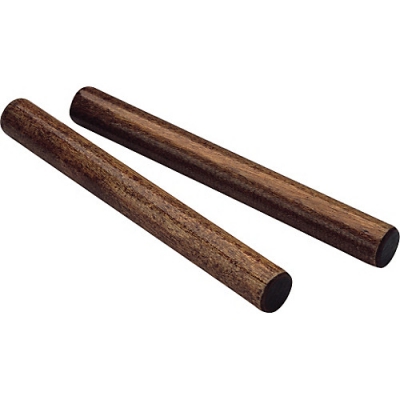 Claves
Claves are a percussion instrument consisting of a pair of short, wooden sticks about 8-10 inches long and about 1 inch in diameter.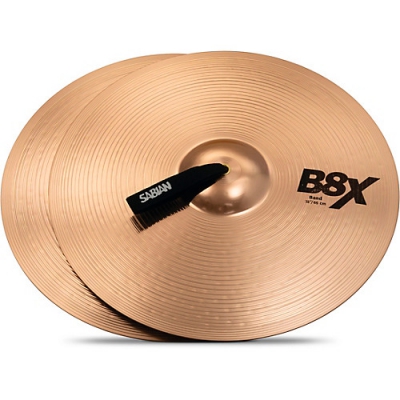 Cymbal
A cymbal is a musical instrument consisting of a slightly concave round brass plate which is either struck against another one or struck with a stick to make a ringing or clashing sound.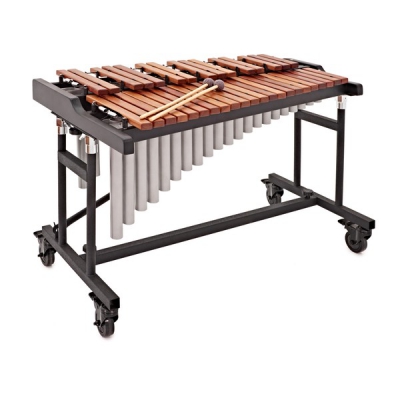 Marimba
The marimba is a percussion instrument consisting of a set of wooden bars struck with yarn or rubber mallets to produce musical tones. Pipes are suspended underneath the bars to amplify their sound.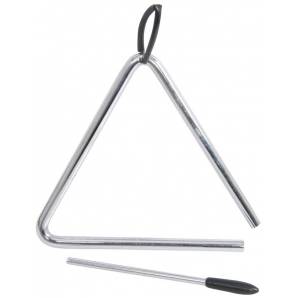 Traingle
A Triangle is s a bar of metal, bent into a triangle shape. It is usually held by a thread or wire loop at the top curve. The triangle makes a sound with an indefinite pitch.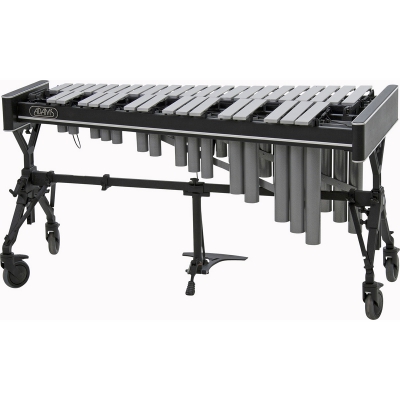 Vibraphone
Vibraphone, also called Vibraharp, or Vibes, has tuned metal bars and is similar in shape to a xylophone. The special feature of the vibraphone, is a set of small, electrically operated fans below the bars, that cause a vibrato effect.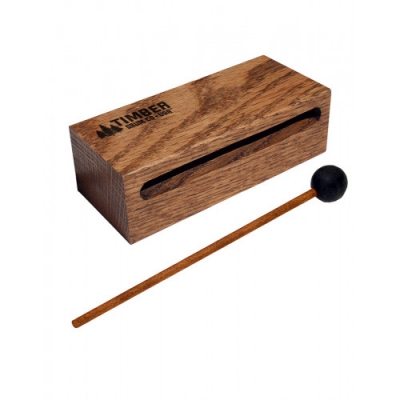 Wood Block

A Wood Block, is a small slit drum made from a single piece of wood, which  produces a sharp crack when struck with a mallet.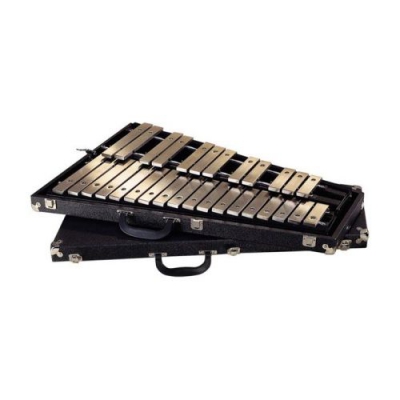 Glockenspiel
The glockenspiel, also known as orchestral bells, is a percussion instrument composed of a set of tuned metal bars arranged in the fashion of the keyboard of a piano.
Elementary
Activity: A Variety of Musical Activities
These activities support teachers before and after the concert, including making a Concert Quilt and building your own drums. (Download)
Lesson Plan and Activities: Good Vibrations
Students experiment with various sound sources, including their own voices, to gain an understanding between sound and vibration. (Download)
Lesson Plan: Echolocation and Sonar: The speed of sound and identification from a distance
Students explore the speed of sound by experiencing the delay for sound to reach them when they know a noise has been made. They will explore what it feels like to identify objects from a distance.  NOTE: This lesson plan can be paired with the Fish Finding Game, and the other Echolocation activites on this page (Download)
Activity: Fish Finding Game
Learn about echolocation in this fish finding game. One person will be a dolphin and will hunt for fish, played by other people. (Download)
Lesson Plan and Presentation: Echolocation and SONAR: How Dolphins Use Sound
Students learn about people and animals that use echolocation and how it works through video and discussion with their peers. (Download) (Download Slides)
Resource: When It's Loud, Protect Your Hearing: Sound Advice for Young Ears
Resource for kids that explains how noise can damage their hearing, prevention of noise-induced hearing loss, how loud is too loud, and types of hearing protectors. Kids can test their new knowledge with a crossword puzzle included in the publication.  (Download)
Resource: How Loud Is Too Loud?
Learn how sound is measured, what sounds are too loud, how to protect your hearing, and how to teach kids about healthy hearing habits. (Download)
Resource: How Does Noise Damage Your Hearing?
Learn about noise-induced hearing loss (NIHL), how you hear, causes and signs of NIHL, and how you can help kids protect their hearing. (Download)
Poster: How Loud Is Too Loud?
A poster that presents the decibel levels of various electronic devices, vehicles, machinery, and conversations, and discusses ways to protect your hearing. (Download)
Poster: Sounds Are All Around
A poster that discusses why and how to protect your hearing. (Download)
Middle/High School
Lesson Plan and Worksheet: Wave Basics
Students explore the PhET Interactive Simulation "Wave on a String" focusing on amplitude and frequency as well as wave travel. (Download) (Download Worksheet)
Students explore the physics of sound, how the ear hears and how musical instruments work through several interactive demonstrations and student activities. (Download) (Download Worksheet) (Download Slides)
Lesson Plan: Simple Harmonic Motion
Students investigate a spring, a pendulum and pasta w/raisins or marshmallows to determine if the period depends on length, amplitude and mass for each oscillator. (Download)
Lesson Plan, Worksheet and Homework: Echolocation and SONAR: Indoor Unit
This activity lesson is for class or group discussion about how dolphins use sound. It is an alternative to the Echolocation and SONAR homework. (Download)(Download Presentation)
Additional classroom materials can be found at exploresound.org.   Thanks to the Acoustical Society of America for making these materials available.