SYMPHORIA YOUTH ORCHESTRAS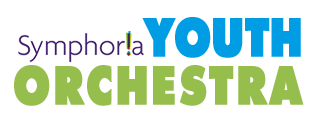 The Symphoria Youth Orchestras give students with a passion for music an opportunity to develop their skills, refine their musicianship and cultivate an overall appreciation for excellence in music with other similarly interested students. Students receive coaching from Symphoria musicians, masterclasses with selected guest artists and a side by side performance experience with Symphoria musicians.
ENSEMBLES
Symphoria Young Artists Orchestra (SYAO)

The Symphoria Young Artists Orchestra offers an orchestral experience with the most challenging repertoire, and three performance experiences.  In addition, student musicians will join their professional counterparts to perform on a Symphoria Masterworks performance.   Sectional coaching will be offered by Symphoria musicians for each concert cycle. The Symphoria Young Artists Orchestra is open to students up to age 22.
Symphoria Youth Repertory Orchestra (SYRO)

The Symphoria Youth Repertory Orchestra offers a full orchestra experience with three performances.  Symphoria musicians will offer sectional coaching for each concert cycle. The Symphoria Youth Repertory Orchestra is open to students up to age 18.
Symphoria Youth String Orchestra (SYSO)

The Symphoria Youth String Orchestra brings together the most talented young string musicians in Central New York to practice and perform a wide variety of string repertoire. This orchestra is targeted for elementary and middle school students performing at NYSSMA level 3, 4, and 5.
AUDITION REQUIREMENTS
SYO Audition Requirements

Admission to the SYO program is contingent on a successful audition. Auditions will last 7 minutes. For auditions, prospective members should prepare a 3-4 minute solo that showcases their playing at its best. Students are welcome to present their current NYSSMA solo piece, but may select any repertoire that best represents their musicianship. If they would like to do so, students may prepare contrasting excerpts to show the panel different styles (fast/technical vs. lyrical, for example).
The panel will also ask for 2 major scales. One will be selected by the student, and the second will be chosen by the panel based on the student's level. SYSO requires at least 1 octave, SYRO requires at least 2 octaves, and SYAO requires at least 3 octaves. You won't be eliminated from consideration for a group if you can't play the right number of octaves. We'd rather see 1-2 octaves with great sound and intonation rather than 3 that are out of tune and rushed.
Tuition Information
Tuition for the 2023-2024 season will be $465.
Payment plans and tuition assistance applications are available.
When to Apply
SYO '23-'24 New Student Auditions dates: August 12th.
The registration deadline to audition on August 12th is Friday, August 4th.
Submit Registration Form (online only). Use the REGISTER NOW button at the end of this section.
Please email Y​outhOrchestra@ExperienceSymphoria.org​ if you have any questions or concerns.
---
Placement Information:
You will be placed in an appropriate orchestra based on your audition performance. Other factors such as instrumentation needs may be considered in your placement decision.
Previous participation in SYO does not guarantee placement.
All placements are final. Please see the Student Profile document below outlining qualifications and rubric criteria used for determining placement.
Student Profile and Rubric PDF: SYO Student Profile and Rubric 
FREQUENTLY ASKED QUESTIONS
How much is the audition fee?
There is a $10 audition fee.  You will receive an invoice via email the day of your audition. Completing the invoice is required in order to know the results of your audition.
Do I need to play my solo from memory?
No. It isn't required to play your solo from memory.
Do I need to provide a copy of my music for the panel?
No. The panel does not need a copy of your music.
Does the audition committee select which orchestra I should be in or do I have to choose?
The audition committee (consisting of the Symphoria musicians and Youth Orchestra conductors) decide which orchestra is the best fit. The conductor's selections are the final decisions unless an opening becomes available. At that time, the conductor may select a student or students to invite for the next orchestra.
Can I play a solo that doesn't have a NYSSMA level specified?  
Yes. NYSSMA levels are listed in our requirements to give you an idea of the type of repertoire and approximate level of difficulty that is expected for different ensembles.   It is possible to substitute an alternate work, and if you have any questions about whether the work you plan to play is approximately equal to the NYSSMA levels that are specified, you may want to talk to your school music teacher or private music instructor.
I didn't get a registration confirmation.   How do I know I know that my registration is confirmed?   
Please do check your junk or bulk mail folders and make sure that the message wasn't placed there.  If you don't see it, just drop us an email and we'll be happy to confirm your registration was received.
I submitted my registration but didn't get an audition fee invoice.
Please do check your junk or bulk mail folders.  If it has been more than three days after your audition, and you haven't received anything, please contact YouthOrchestra@ExperienceSymphoria.org
How soon will I hear about the audition results?
The audition results will be sent electronically, no later than early August.
What are the expectations for School Participation for students enrolled in SYO?
We expect you to participate in your school music programs when such programs exist. By participating in your school music program, you benefit by playing every day, becoming a better sight-reader, and playing an important part in helping to build meaningful music programs in your school and communities.
Q: What does SYO cost?
A: The tuition will be $465 per student for the 2023-2024 season. Payment plans and tuition assistance applications are available.
Q. I'm trying to submit my application online and it's not working.  
Most people find that using Firefox solves any issue that they might be experiencing with the form.   Once the form is successfully submitted, you will see a confirmation page confirming that it has been submitted. If you still do not receive a confirmation page or confirmation email, you may send a screenshot of the completed form, or a PDF document of your information to YouthOrchestra@ExperienceSymphoria.org.
Please don't hesitate to contact us at YouthOrchestra@ExperienceSymphoria.org