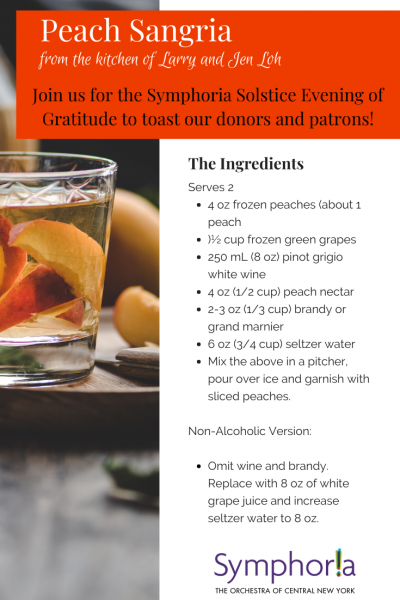 Join us on June 11 at 6:30 PM for our Solstice Evening of Gratitude. Our usual in-person gala fundraiser has been converted into an online donor and subscriber appreciation concert and event. This event will be hosted by Music Director Lawrence Loh and Executive Director Pam Murchison, with special appearances by Principal Pops Conductor Sean O'Loughlin and Symphoria Board President Mary Ann Tyszko. You will be treated to multiple chamber music performances by our Symphoria musicians.
Everyone who has donated at least $25 over the last 18 months, as well as all 19-20 Subscribers will automatically receive an invitation to this event which will be streamed through a private link. If you are not a current donor or subscriber, you may purchase a ticket to this event.
We welcome everyone to uplevel your experience by purchasing wine and charcuterie/crudité provided by 317 at Montgomery and Scratch Farmhouse Catering. Join Jen and Larry Loh for their cocktail "quarter-hour" at 6:45 PM and use a bottle of Pinot Grigio to make a special cocktail with them to toast Symphoria and all of our supporters.
You will receive your private link to this event on Monday, June 8, 2020. If you do not receive an email with the link, or have problems logging in on the night of the concert, please call (315) 299-5598 for support.
Wine from 317 at Montgomery Street
Albertoni Pinot Grigio ($30)
A grand mixture of pear, tangerine, honeysuckle and light apple aromas. Choose this one if you want to make cocktails with Larry and Jen Loh during the Cocktail Quarter-Hour!
Albertoni Chardonnay ($30)
Distinctiveness from a fountain of pear aromatics, full bodied, creamy and rich
Albertoni Merlot ($30)
Hints of wild berries and black pepper couple with flavors of black cherry and plum with a soft and satisfying finish.
Albertoni Cabernet ($30)
Fruit forward with subtle aromas of boysenberry, raspberry, and licorice
Appetizers from Scratch Farmhouse Catering
Charcuterie Bouquet ($45)
a bouquet filled with house-cured meats, local cheeses, pickles, pretzels, and a sweet bite or two with house stirato bread and a side of ramp mustard
Veggie and Cheese Bouquet ($45)
a bouquet filled with local cheeses, veggies, pickles, pretzels, and a sweet bite or two with house stirato bread and a side of hummus