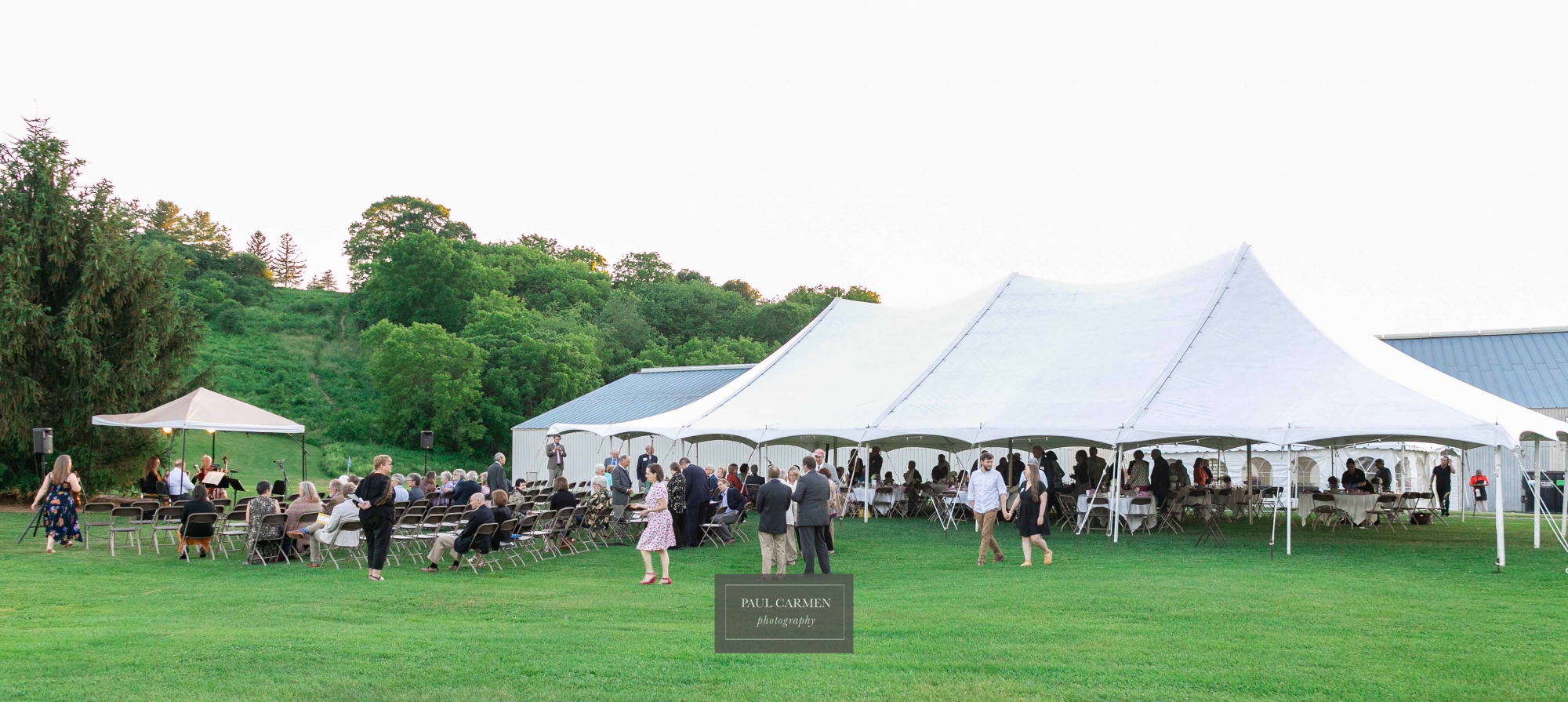 Join us outside under the tent to celebrate Solstice and Symphoria! This joy-filled evening will feature a live concert by one of Symphoria's chamber ensembles, hors d'oevres, a seated dinner, open bar, and a silent auction. Each year the Solstice Celebration is one of our biggest fundraising events.
When you join us for Solstice you aren't just enjoying another dinner and concert, you are supporting Symphoria programs that reach far and wide across the CNY community! Thank you!
Schedule of Festivities
6:00 pm Cocktails & Appetizers – Enjoy the open bar
6:45 pm Seated Dinner & Dessert
7:45 pm Symphoria Chamber Ensemble Concert
Tickets
$1600 table of eight
$200 per person
$85 sponsor a Symphoria musician to attend
Menu Choices:
1) Caprese Chicken stuffed with sundried tomatoes, mozzarella, spinach, pesto and served with a blush tomato cream sauce
2) Prime Rib roasted with an herb crust and served with a Madeira sauce
3) Eggplant Stack layered with mozzarella, ricotta and a marinara sauce
Tickets available by clicking the Buy Tickets button, or by calling the Symphoria Box Office at (315) 299-5598 by June 2, 2022.
The auction will end on June 7 at 7:45 PM EDT. You do not need to be present to win.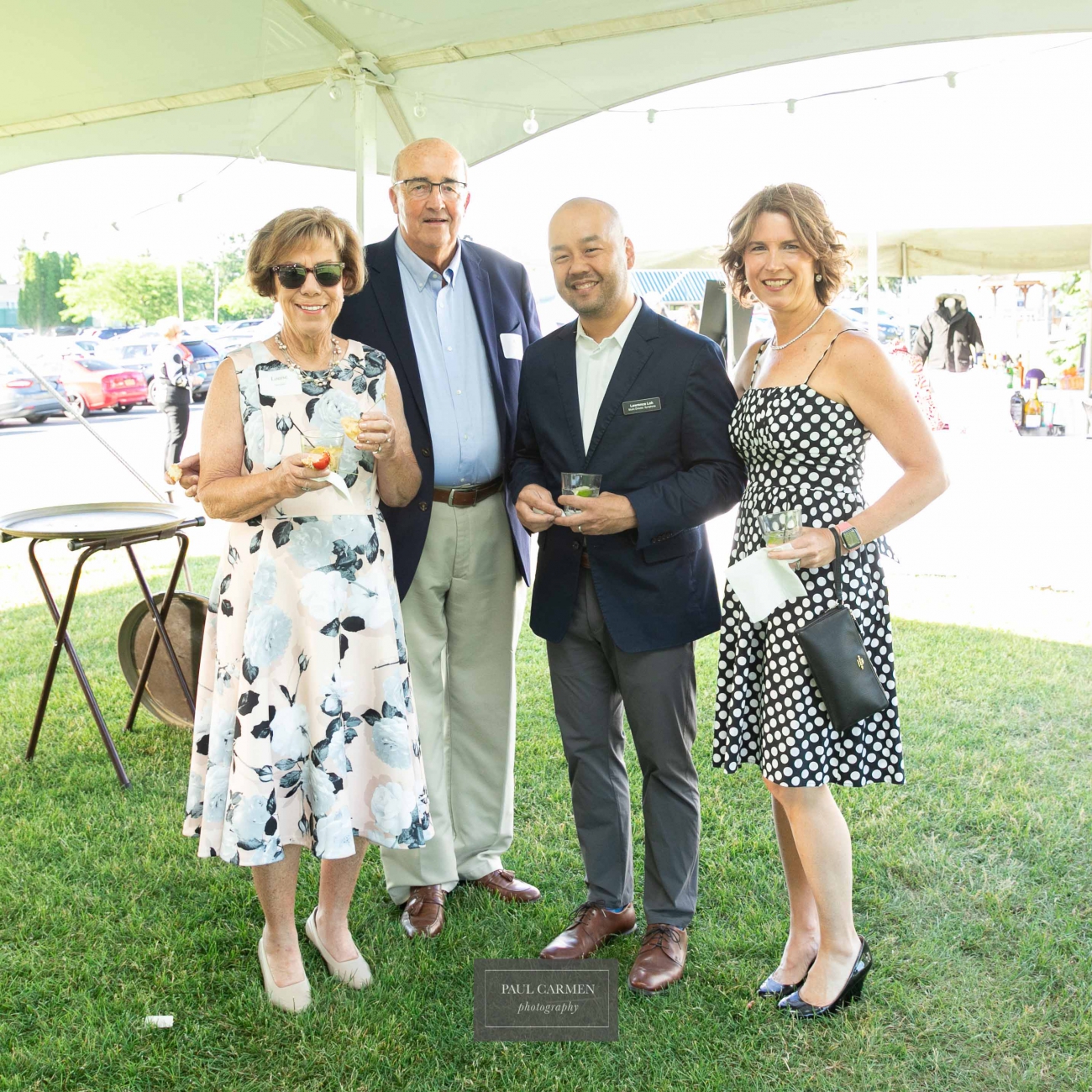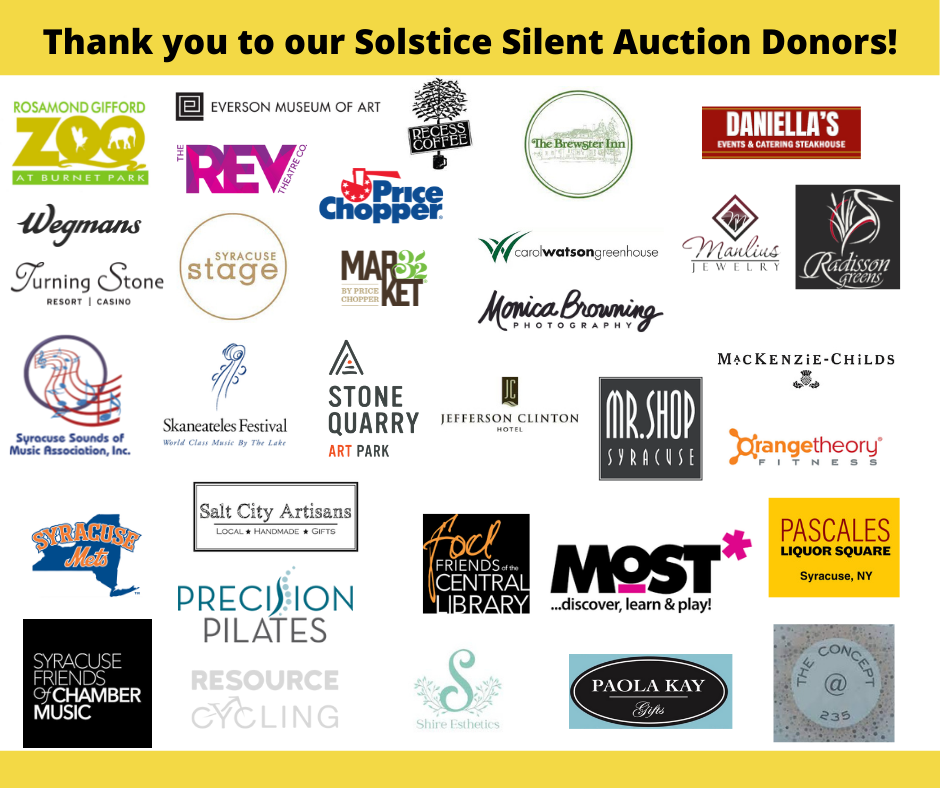 Andrea Calarco
Britton & Jen Smith
Carol Watson Greenhouse
Dan & Karen Fuleihan
Daniella's Steakhouse
Donna Stoner
Radisson Greens
Fran Craybas
Friends of Central Library
Friends of the Rosamond Gifford Zoo
Jackie Penfield
Jefferson Clinton Suites
Jessica King
Kelly Covert
Larry & Jen Loh
Mackenzie Childs
Manlius Jewelry
Mary Ann Tyszko
Meg Aufmuth
Michael Feng
Monica Browning Photography
Mr. Shop
Orange Theory Fitness
Paola Kay
Pascale's Liquor
Peter Rabinowitz
Precision Pilates
Price Chopper
Recess Coffee
Renee Wiles
Resource Cycling
Richard Jay Alexander
Salt City Artisans
Sharye Skinner
Shire Esthetics
Skaneateles Festival
Stone Quarry Hill Art Park
Syracuse Friends of Chamber Music
Syracuse Mets
Syracuse Sounds of Music Association
Syracuse Stage
The Brewster Inn
The Concept @ 235
The Everson
The Feng Family
The Most
The Redhouse
The REV Theatre
The Symphoria Board
Turning Stone Resort Casino
Vicki & Robert Feldman
Wegmans