CONCERT STREAMING
For every concert you have a ticket for, you will be sent a Vimeo link the week of the concert. Be on the lookout in your email for this link. If you have not received a link by Thursday of concert week, please call (315) 299-5598.
What else do you need to do to attend? Not a thing! The virtual doors open at 6:30 PM for Masterworks concerts, 7:00 PM for Pops Concerts, 6:30 PM for Spark Concerts, 2:30 PM for Casual Concerts and 10 AM for Kids Concerts. Concerts are only available to watch at the advertised time to preserve the shared concert experience.
You do not need a free Vimeo account to watch the concert, you only need the link we will supply to you. Every concert will have a unique link. Creating and logging into a FREE Vimeo account will give you access to interactive options like the chat feature.
If you're nervous about whether or not this will work for you, you can give it a trial run by using the test link below. Please note: this link is only for testing purposes. Please be sure to use the link for the actual concert on concert night. If for some reason you don't hear sound on the test video (be sure to click unmute), please email or call us at 315-299-5598 x. 2205 for help before the event.
Landing Video Test from Symphoria on Vimeo.
Did you know that in addition

to

watching on your computer or device, there are a variety of ways

to

watch the concert from a smart TV?
HDMI Cable:
You can plug your computer directly into your television with an HDMI cable. Click here to learn how to do that. You can also connect your computer to your stereo speakers for enhanced sound.  Click here to learn how to do that.
Google Chromecast:
You can use a Google Chromecast device to stream from your computer or other device to your smart TV.
Stream with Chromecast from Computer
Stream with Chromecast from your iPad
Stream with Chromecast from your iPhone and Android Device
Amazon Fire Stick:
Download the Amazon Silk web browser app by searching for "Silk", then enter the concert URL into the browser.
In our experience, the Amazon Firestick, AppleTV and Roku are not able to stream live videos (like our concerts) through the Vimeo App. Using one of the above options will always be a better option.
For the best streaming experience on Vimeo (including options to show and hide the chat), please use the Chrome browser.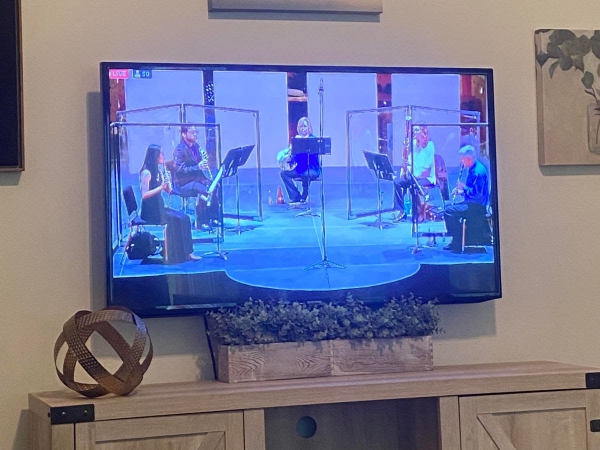 How to Connect to Your TV with a HDMI Cable